HARRISON, NJ – On Saturday September 16, NJ/NY Gotham FC tallied three significant points with a 2-0 win against Washington Spirit. With the victory, Gotham FC now sits in third place, just two points behind first place Portland, in the National Women's Soccer League regular season table.
Playoff Picture Before Kick Off
In a tight playoff race, it is important to set the scene before we dive into the game. So, let's journey back to the beginning together.
Heading into this budding rivalry, both teams were in must-win situations to keep their playoff hopes alive. With just four games remaining in the regular season, Gotham sat in 5th place, just one point ahead of the 6th place Washington Spirit. The top six teams in the regular season make the playoffs, and in this year's playoff race that is tighter than ever before, every point matters. A win would catapult the victors towards the top of the table. A loss would leave the team vulnerable to falling out of a playoff spot altogether.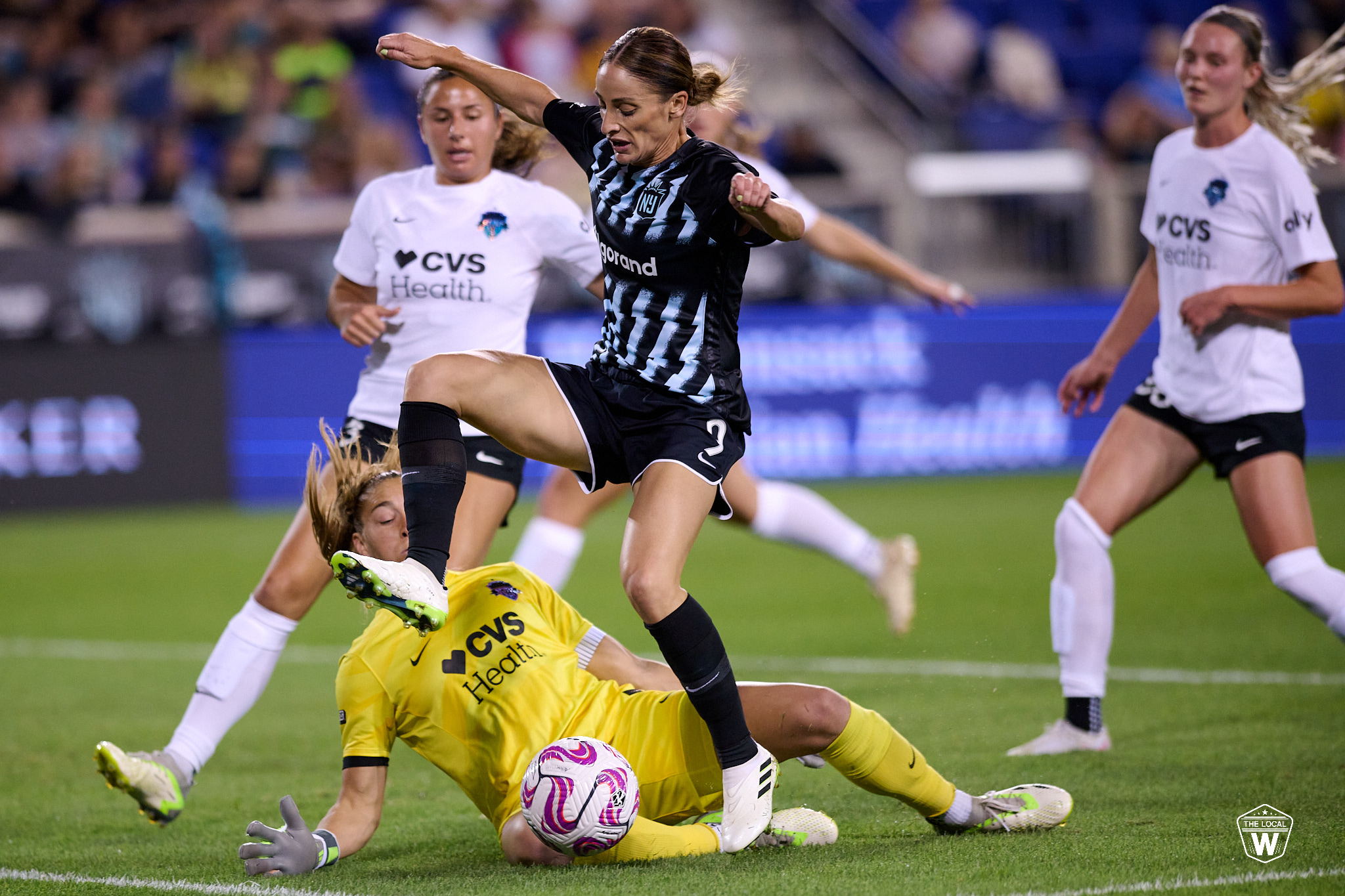 It was a true team victory for the home side. "Everyone is playing their role," said- Gotham head coach Juan Carlos Amorós when asked about the depth of his team. With everything on the line, Gotham didn't just take the three points, they controlled the game and dominated the field, launching themselves to the top of the table.
Esther González's Home Debut
Gotham's latest headline signing Esther González made her home debut and first start for the club, and she did not disappoint. González tucked away two goals in five minutes, scoring both of Gotham's goals for the evening.
"We studied a lot of players and possibilities and we knew that she would be the player to bring certain qualities," Amorós said, on bringing González to the club. "There is a lot of work behind the scenes…. So when we bring her in especially at this point in the season we know that she can be a performance player immediately."
Esther's immediate impact was clear from the scoresheet. However, it wasn't just her goal-scoring ability that was on full display on Saturday evening. Playing center forward, González's hold up play was a key factor in Gotham's dominance throughout the game.
"If you find a #9 that holds up play, then that gives time to other players to join the attack and allows players to receive the ball facing forward… it is very important for us, in our DNA, we are trying to play in positions of advantage to progress on the pitch and that is easier when all of the options are facing forward already." Amorós said.
Esther's second goal came from a brilliant assist by Gotham's leading goal scorer on the season, Lynn Williams. Williams shared after the game that the two have been communicating on the field through their eyes and eyebrows. When asked about this, Esther laughed and commented, "we know we are going to play together in the same part of the field so we need to be able to communicate however we can while we don't speak the same language. Sometimes it's through our eyes, sometimes [other ways]."
Despite not speaking the same language, Esther has gelled with the team on and off the field. González shared that her teammates have, "all made the effort to try to speak to me in Spanish and try to improve their own Spanish… and it has allowed me to build connections with them quickly."
Speaking to her on-field connections, González commented on the front line she joined, playing in between Williams and Midge Purce, two US Women's National Team forwards. On Williams, González shared that, "[Lynn] is a player that, even before coming here, I admired a lot and so I am very excited to be able to play with her… Her speed and her ability to push the ball past the defenders and get space goes really well with the way I play which is a lot of 'in-the-box' getting myself unmarked and getting myself into positions to score goals."
Unbeaten at Home in Seven
Saturday's win marks Gotham FC's seventh straight unbeaten home game. Amorós went on to share that they also changed the preparation.
"We go to a hotel now instead of coming directly to the game and we focus on the game a bit earlier. That is really helping because it is already putting your mindset into game mode… that unbeaten run started when we started doing the hotel."
Whether it's the preparation, the depth of the squad, or both, Gotham FC now sit in 3rd place with just three games remaining in the regular season. They will play their next game at home on Sunday October 1 vs the Houston Dash at Red Bull Arena before heading out on the road to the current first place Portland Thorn's Providence Park. Gotham FC will conclude their regular season at home on October 15th vs. KC Current.