HARRISON, NJ – On Sunday October 1st, NJ/NY Gotham FC snapped their seven game home unbeaten streak with a 2-0 loss against the Houston Dash. With the loss, Gotham FC find themselves in third place – just two points behind the second place Portland Thorns and a coveted 'bye week' spot in the playoffs – in the tightest playoff race the National Women's Soccer League has ever seen.
A Victory Despite the Scoreline
The 2-0 scoreline depicts a game in which Houston shut down Gotham's attack and had their way with Gotham's defense. The reality of this game was quite the opposite. Sometimes statistics don't tell the entire story of a match, but in this game specifically, they can certainly help paint the picture.
Gotham FC dominated 69% of possession and racked up a full 23 shots, with 7 shots on target. Comparatively, Houston maintained just 31% of possession with only 7 shots and 3 shots on target. Gotham FC had more than double the completed passes of Houston, and their pass accuracy was a strong 77% compared to Houston's 53%.
Perhaps the statistic that tells it all, though, is that Gotham FC won 15 corner kicks compared to Houston's 0. In other words, most of this game was spent in Houston's defensive half, with Gotham FC on the ball.
If there was an award given to teams who hit the crossbar and post the most, Gotham FC would win handily.
"The amount of posts and crossbars we hit today was crazy," remarked defender Kristen Edmonds after the match.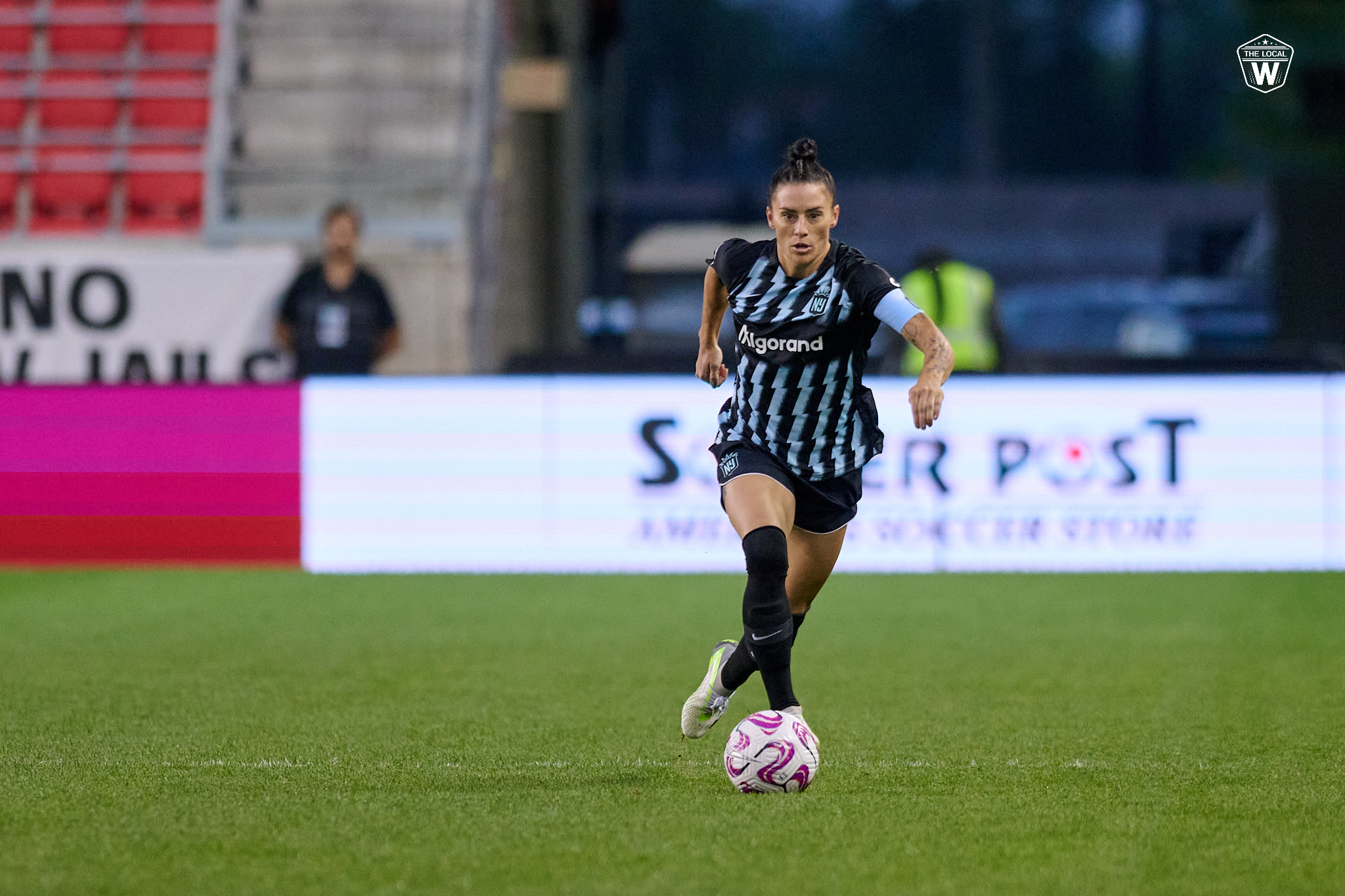 "It's frustrating when you don't finish so many [chances] so early because we had chances to put the game away in the first half and we didn't and then they capitalized on the two that they had," she continued. "But when you look at the positives you look at the amount of chances we were able to create… sometimes the soccer gods just aren't on your side and today we just couldn't find the back of the net. But, when we go back and look at the film, I'm sure that we will find a bunch of positives and little tweaks here and there to bring it to Portland."
Head Coach Juan Carlos Amorós echoed Edmond's sentiment after the game.
"Apart from the effectiveness, I can't really tell anything to the players today… this is football, you need to be effective," he said.
Amorós was sure to share he was proud of the team and how they performed. Gotham FC has not been result focused this year, but rather process oriented with the belief that results will follow.
"One game at a time," said Amorós, "for us it is very important that we focus on the day-by-day situation and making sure that we are as prepared as we can to control what we can control, which is our performance."
Kristen Edmonds Returns
Among the many bright spots in the loss was the return of defender Kristen Edmonds. Edmonds, a 36 year old veteran, has been out with a concussion since Gotham FC's 3-3 draw vs. North Carolina Courage on September 2. After a terrifying collision, Edmonds was stretchered off the field and has since been in concussion protocol with Gotham FC. After almost exactly one month, she shared her excitement at being back in the mix.
"It was fun to be back on pitch. I feel like I've been out forever but it was fun to get back in with my teammates and help contribute on the field." 
The New Jersey native who signed with Gotham this year commented on the two goals that Houston was able to score from their three shots on goal.
"I mean, it's just, I think maybe we switched off for a second… that can happen when you are attacking most of the game you tend to get caught with the ball and watching the ball but I think that both of those goals are simple fixes for us. We'll go back, we'll watch, and we'll fix them."
Fans were excited and relieved to see Edmonds back on the field with the team. Gotham is a team that is currently dealing with multiple injuries to key players, so seeing one of these key players back in the lineup was certainly soothing.
Two Games Remaining
"This year is very tight," remarked Edmonds when asked about the playoff picture. Perhaps this statement is even a bit of an understatement. 
In the closest playoff race that the NWSL has ever seen, Gotham are in a precarious position. While they currently sit in third place of the six playoff spots, their position is not as secure or comfortable as it may seem.
The 'glass half-full mentality' would have us looking at Gotham FC sitting just two points behind second place Portland Thorns. These two teams will face each other next weekend in Portland, Oregon in a match that could decide who secures that final 'bye-week slot' in the NWSL playoffs.
On the other side, the 'glass half-empty' or 'skeptics' maybe have their eyes fixated on the fact that fourth and fifth place North Carolina Courage and Washington Spirit sit just one point behind Gotham and the Dash who are currently just shy of playoff contention are only 4 points behind.