The team bus pulls up about 90 minutes before Monday night's Tribeca Film Festival premiere of UNFINISHED BUSINESS. Out pours the entire New York Liberty roster and coaching staff (save Bec Allen, who missed the event with illness), each player equal parts captivating and captivated as she absorbs the spectacle and, in return, becomes it herself. Just as happens on the court, the athletes' diverse skill sets shine through immediately.
Though just a second-year player in the W, DiDi Richards is a veteran of the red carpet. She shines brightest under the lights, and she's comfortable amidst the flicker of flashbulbs. Natasha Howard, whose black-shirt, black-pants fit is topped with a bright red fedora, exudes casual cool, just as she does on the court when she faces up an opponent from midrange. Crystal Dangerfield is ultra-efficient, darting through pockets of press with a friendly smile, though she'd just as soon pass off the attention to her teammates.
While events like this are familiar to players like Richards, Michaela Onyenwere, and Betnijah Laney, for others, this was a new experience. "It is such an honor to be here today," said Han Xu, flanked by interpreters Cindy Chen and Siqi Wong, "and it's my first time walking on a red carpet. I appreciate all the opportunities in New York City."
To further contextualize the duality of these players as both athletes and celebrities: about 30 hours earlier, they hosted the Chicago Sky for a game at the Barclays Center; now, they were the featured stars at a film premiere. "New York is kind of the hub of all of this," Sabrina Ionescu said. "The history with the Liberty stands strong. We have legends here [tonight that come] to all our games. Our organization always keeps them top of mind, and we prioritize and respect everything that they've done for us to be able to be here today."
The film explores those connections, presented through two parallel narratives, one progressing through the early years of the New York Liberty (and the WNBA as a whole), the other following the 2021 team in the franchise's 25th season. Many of those early trailblazers attended the screening: Kym Hampton, Crystal Robinson, Teresa Weatherspoon, and Sue Wicks. Clara Wu Tsai, an executive producer on this project and the current governor of the franchise, has made a concerted effort to honor that first generation of the Liberty family. Over the past two seasons, all four former players have taken in games at the Barclays Center, and they've become mentors to the current roster.
The work's narrative framing allows for deft time jumps from the late '90s to today, highlighting stark contrasts that show that the league's growth is not always linear. One of the most jarring and poignant sections of the film discusses the early WNBA's marketing efforts to distance itself from its LGBTQ+ fans. Sue Wicks' all-but-forced coming out story is placed side-by-side with Brittney Griner's experience, and the safety BG felt in sharing her sexuality, without fear of financial repercussion, shortly after becoming the top pick in the 2013 draft. However, when the film later examines the WNBA's early pushback against the 2016 Liberty and Minnesota Lynx's support of the Black Lives Matter social justice movement, the league's response strikes the same upsetting chords as it did when alienating its gay fans nearly two decades before.
I don't want to spoil too much of the film, both because every WNBA fan should make it a priority to see and support this work, and because there's just so much captured in the conjunction of aesthetics that is all but ineffable, that I just can't do justice here. But I'll say this much: thematically, this project serves as a reminder that each inch of progress has been fought for, and that each subsequent draft class is building off the players that came before.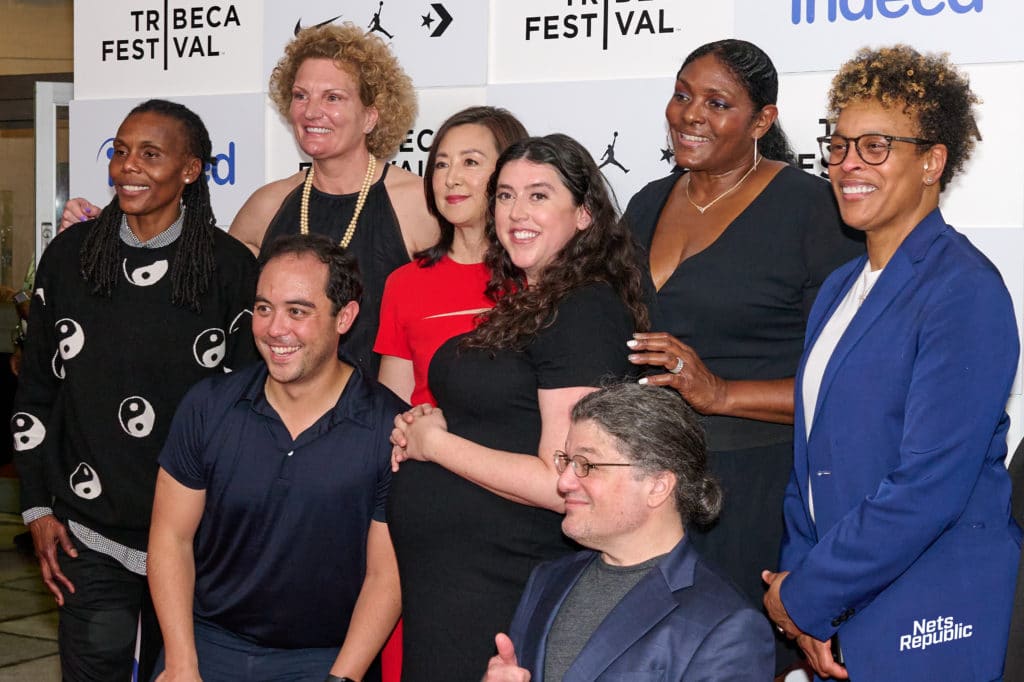 "For these young ladies [on the Liberty] to see that the foundation is already built, they can build their own," Teresa Weatherspoon said. "This is their time and they're doing a heck of a job representing this team, this league. If they can't represent themselves, they can't do anything else."
Betnijah Laney knows the importance of opportunities, both through her own journey as a professional, and having known the experiences her mother—also a talented basketball player—lacked because her era didn't have a professional women's league stateside. "This is the history of the New York Liberty," the 2021 All-Star said of UNFINISHED BUSINESS. "To have that documented evidence is really special, and it'll be beneficial for the next generation of young girls who want to play in the WNBA."
Where this film succeeds most, in my opinion, is in its access: the amount of B-roll and locker room footage is a diehard hoops fan's dream. When the narrative zooms in on a pivotal game, my only disappointment in recognizing how crisp the rhythm is, in how measured the tension feels, is in the recognition that so much material must have been cut, and I now need a four-hour extended edition from director Alison Klayman.
After the screening ended, Ari Chambers moderated an on-stage panel and asked Klayman what she wanted viewers to take away from the film. "It's not always a simple answer when people [ask me that because] for me, it's usually not a prescriptive thing… but I kind of feel like with this film it is… I want people to go to games and watch games. For me, that would be validation as a filmmaker, because did you not just fall in love with the players, with the great basketball, with the stories? I think that's something really igniting."
Those anecdotes—whether they're teammates' firsthand accounts of "The Shot" from T-Spoon, or the behind-the-scenes glimpse into Onyenwere's draft party, or Jaz Jones' ride-or-die energy (aside: one of my absolute favorite athletes to cover, and she features in my favorite sequence here)—all contribute to the legacy of the Liberty. And, of course, to the title of the film, as relevant today as it was when Joan Jett created and performed the song of the same name.
Sabrina Ionescu put it succinctly: "The unfinished business: we're all here to bring a championship to New York."