Sunday May 7th, on a sunny Spring evening in Chicago, Illinois, NJ/NY Gotham FC pulled out a 2-1 win over bottom-of-the-table Chicago Red Stars. Goals from rookie Jenna Nighswonger and star striker Lynn Williams catapulted the team to fourth overall in the National Women's Soccer League table. 
The third of a three-game road trip proved to be more difficult than the early picture of the game indicated for Gotham. Pulling ahead 1-0 in the first five minutes, it seemed as though Gotham would have their way with the injury-ridden Red Stars,a feeling that was confirmed again when Williams tucked away Gotham's second goal just before halftime to send Gotham into the locker room with some insurance in their pocket. 
Although the Red Stars mounted a comeback in the second half with a goal coming from a corner kick in the 53rd minute, Gotham as a team maintained their style, utilized their depth, and saw the match out to earn their fourth win of the season.
"This massive win shows the style and winning mentality that this team has. I think that coming off the back of three away games, when we needed everyone to step up, everybody stepped up," said Head Coach Juan Carlos Amorós after the game.
Amorós fielded an altered starting lineup that featured rookie Jenna Nighswonger in a more advanced wing role, a rested Lynn Williams, and Sinead Farrelly off the bench.
"The three of them are showing to be key," said Amorós when asked about what Williams, Nighswonger, and Farrelly have brought to the team. These three new-comers have been the major engines behind Gotham's current fourth place seating in the standings, and Sunday night proved to be no different.
Williams, Nighswonger, & Farrelly: Keys for Gotham FC
The veteran, the newcomer, and the gamechanger – new additions of Williams, Nighswonger, and Farrelly have been the spark for Gotham FC this year.
Last season, Gotham finished in last place with a 4-1-17 record. This year, just six games into the regular season, Gotham have already tied the number of wins from the entirety of the 2022 season and sit in fourth place with twelve points, just one point behind league leaders OL Reign.
General Manager Yael Averbuch West made significant roster moves this past offseason, but signing these three players specifically has brought a fresh energy to Gotham that was missing in previous years – both on and off the field.
The Veteran: Lynn Williams
Generally, when you think of Lynn Williams you think of goals. Of course, goals are a large, and important, component of what Williams brings to Gotham, but arguably not the most important.
Amorós is the first to say that Williams is "a difference maker – on and off the ball," but is quick to add that the veteran striker "brings so much that is not even goal related," to the field and to her team.
"Her attitude… how she is able to offload when we are under pressure, high pressure, and then on top of that she has been outstanding when it comes to facing the opposition's goals," Amorós said after Sunday's game of William's ability to spark her team's defensive pressure.
Williams's off-the-ball tenacity is driven by a combination of her intelligence and understanding of the defensive block that her team plays and her unparalleled work ethic on the field. It is clear that this is Williams's form of leadership – leading by example – and through it she has ignited a ferocity in Gotham that was missing last year.
Also noteworthy is that Williams is a goal scoring machine: The forward has scored in every game this year when Gotham took home points – including both regular season and Challenge Cup – with the exception of the two games when Gotham was shut out.
The Newcomer: Jenna Nighswonger
Opening up the scoring on Sunday night was Gotham's first round draft pick in the 2023 NWSL College Draft, Jenna Nighswonger. Amorós pushed Nighswonger into a more attacking role than she had previously been playing for Gotham this year, and within five minutes the league newcomer scored her first ever NWSL goal.
"I think that, with Jenna, she's a rookie but she's a football player. She can play. She can play everywhere, she's intelligent, she's gifted technically, she works hard, she thinks about how she can be better," Amorós said of Nighswonger after Sunday's 2-1 win. He praised her ability to finish and combine well, and particularly how composed she was on the ball.
Work ethic, intelligence, and composure were all words that Amorós used to describe Nighswonger, Williams, and Farrelly. Farrelly, who was subbed on for Nighswonger shortly after the goal due to a small injury, has quickly become a core piece of Gotham's midfield.
The Gamechanger: Sinead Farrelly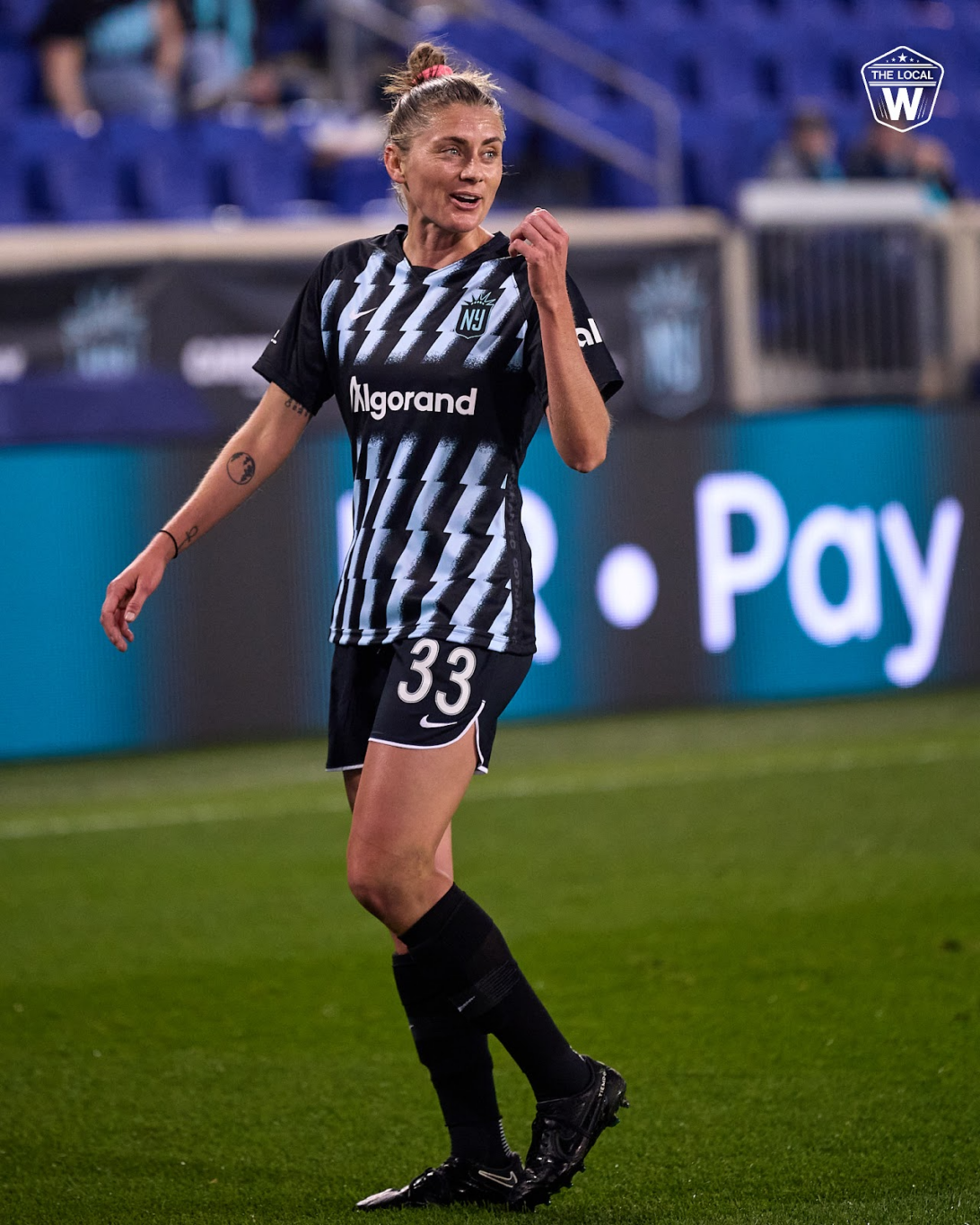 Sinead Farrelly seems to be the heart and soul of any team whose roster sheet has her name on it, and Gotham is no exception. On the field, Farrelly is the spark in Gotham's midfield, the fire that filled gaping hole from the 2022 season. Off the field, she brings her infectious positive energy anywhere she goes.
After Gotham FC's first Challenge Cup game on April 19, McCall Zerboni got emotional when asked about playing with Sinead in the midfield. "I'm bursting at the seams with joy and happiness for her," Zerboni said. "She's someone who just deserves the world and she is such a positive spirit and shines on everyone around her and everything good that comes her way, she deserves it. So, I'm just grateful to be next to her and watch that light."
On the field, Sinead is a gamechanger. "She knows how to affect games through effort and through quality and I think that she is a different player to almost everyone in the league," Amorós said of Sinead after Sunday's win.
Amorós continued to praise Farrelly, saying, "Sinead, she is just an intelligent player… she is so calm and composed and she understands the game really well and she is able to be effective… I don't think we can highlight enough what she is doing on the pitch."
Speaking to Farrelly's intelligence on the pitch, Amorós commented on the difficult position Farrelly was in on Sunday. Coming off the bench as a substitute with no warm-up and no notice to replace the injured Nighswonger, "She was incredible coming on into a difficult game and in that position where we worked with her but it was difficult to understand what to do, and then [Chicago] changed formations and she still understood what to do."
What's Next for Gotham?
Together, these new additions have brought an energy to Gotham FC that has catapulted them into their current fourth place position in the standings, and will continue to drive the team forward this season. Gotham returns to action with a home game on May 14th where they'll take on Orlando Pride.
Full highlights are available below: