The WNBA playoffs are here, and the New York Liberty are ready to make their mark after a 32-8 regular season.
The road to the Finals won't be easy, with New York's first-round series coming against one of the best teams in the WNBA. Despite the wave of injuries, the Washington Mystics have fought hard to make it into the postseason. Eric Thibault's team is tough, gritty and full of players with playoff and championship experience. With Game 1 of the series on Friday night, The Local W takes you inside the Liberty's postseason preparation.
Liberty Practice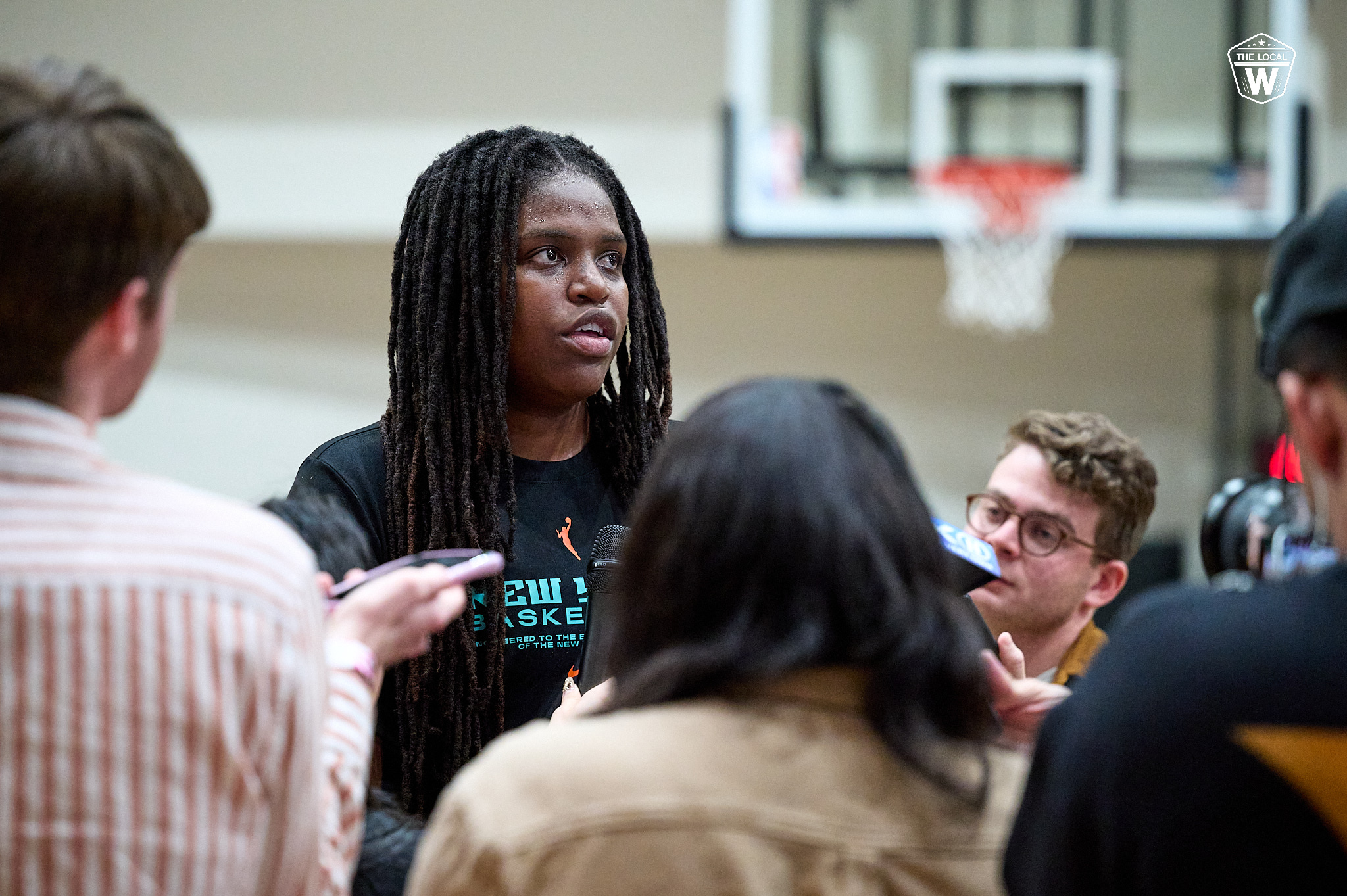 The Local W was able to see the Lieberty go through preparation for Friday night's contest at practice on Sept. 13. One player who stands out as a key in the Liberty's aspirations to advance is Jonquel Jones.
In her last two games against the Mystics, Jones recorded:
A season-high 27 points, 11 rebounds, three assists and three blocks on July 21
19 points, nine rebounds, and two assists on Sept. 10
Jones's success against the Mystics is a key part of her second-half renaissance. JJ noted that she was able to counteract Washington's physicality by using her athleticism and using their bodies against them. Myles Ehrlich of Winsidr asked Jones what makes the Mystics such a physical, tough team to face.
"I think they're well coached," Jones said. "They do play very physical, so whether that's denying guards on the wings, whether that's getting into our bodies as post players [etc.]. Me and Stewie, not allowing us to just rip and drive or get easy post-ups. I think they do a really good job of making the game tough. And I think the last matchup for us is pretty indicative of the difference between playoff basketball and regular-season basketball. It's that the physicality is on a different level. And so I think it was a it was a great wake-up call for us."
The Liberty's second-half dominance came in large part due to Jones' excellence. Her ability to dominate the interior opened things up for her teammates and created extra pressure on opponents. With Shakira Austin officially out for the Mystics to start the series, Jones's presence will take on even more importance.
Making Adjustments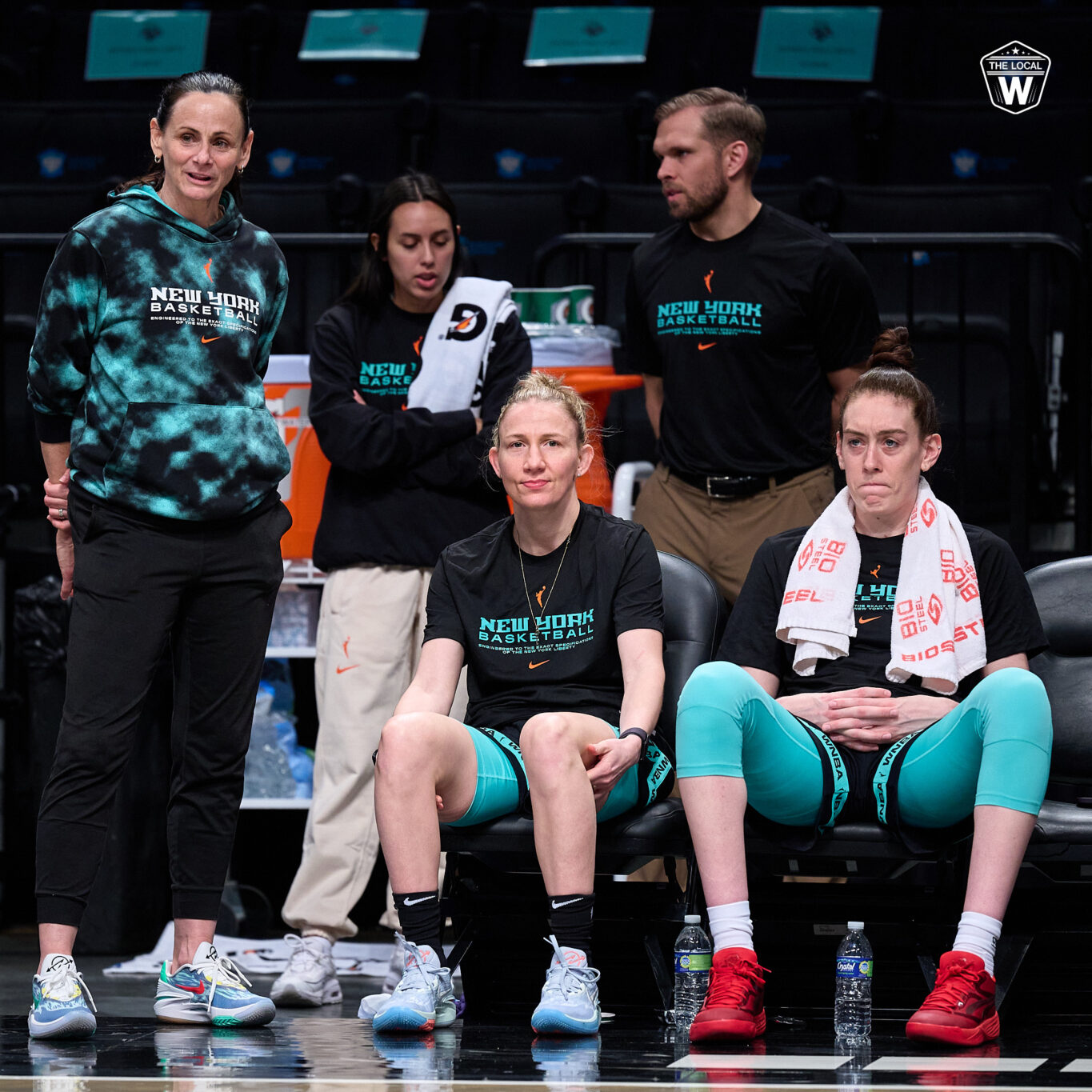 Despite some heroics, Breanna Stewart has had her struggles against the Mystics, shooting above 30% just once in four games against Washington this season.
"We've got to capitalize on her switches if they're gonna switch with her and put guards on her," Vandersloot said. "As good of defenders as those guards are, they shouldn't be able to defend Stewie. We've got to get her good looks. … We've got to try and make things easier on her and definitely utilize the switches."
Stewart noted that the Mystics load the backside on defense and always have someone by her side and cited her ability to create separation as key in this matchup. For the Liberty, having Stewart create open looks for herself will be critical.
Grow the Game
The Liberty want people across New York City to know that it's time for the playoffs.
The Liberty are trying to bring home New York's first basketball championship since the New York Knicks won the NBA championship in 1973 and the New York Nets won the ABA championship in 1976. At practice on Wednesday, Stewart was asked about the importance of competing for a championship in New York and the importance it has on women's basketball.
"I think it's huge for women's basketball," Stewart said. "I think that especially being here in New York, huge media, biggest sports media market in the world, you can feel the momentum is shifting a little bit. Even after we lost the last game, we had a fan engagement with the season ticket holders, and there was like 400 fans here just talking about how much they appreciate us and how excited they are to get behind it. So not only are we continuing to put more people in seats to watch the WNBA and women's basketball, but we're being highlighted and shown throughout the city, like something that's never happened before."
It's a sentiment that Liberty general manager Jonathan Kolb and CEO Keia Clarke have echoed as well.
"In a league with 12 franchises in the cities that we are, it's important that there be a strong team and a team in New York City," Clarke said in June 2022. "Just the amount of people that we can reach and the fandom, and the fan engagement, the people of New York City deserve a women's basketball team to root for."
The Local W has gone in-depth about the WNBA expanding its cultural footprint. When there is investment in the game and players are put in positions to succeed, fans will come and stay for the long haul. When there's proper investment behind the women's game, the world gets to see it in all its beauty. New York is fully behind the Liberty, and the seafoam faithful are ready to will the home team to victory.
Gotta Get Up!
We've got a full house on this week's edition of 'Gotta Get Up'! Erica Ayala, Misha Jones, and I analyze all things Liberty vs. Mystics:
The importance of keeping turnovers low
Elena Delle Donne and Ariel Atkins managing minutes restrictions in the playoffs
The excellence of Brittney Sykes
X-factors for the Liberty and Mystics
The importance of Jonquel Jones for the Liberty
The ranginess of Marine Johannes on defense
Sabrina Ionescu's increased success near the rim
Ionescu shaking off the rust following her brief absence
Predictions!
Subscribe to Black Rosie Media on YouTube here. Subscribe to The Local W on YouTube here.