On another rainy evening in New York and New Jersey, the clouds unexpectedly parted above Red Bull Arena, allowing Gotham FC to host Angel City on July 2nd. Considering Gotham's history with bad weather this season, it was a pleasant surprise that the game was to go on without rain delay.
Aside from the weather, Sunday's game against Angel City was notable for another reason: it was the first game of the season without international players who are participating in the World Cup. Despite missing key players like Lynn Williams, Kristie Mewis, Kelley O'Hara, Ifeoma Onumonu, Bruninha, and Sinead Farrelly, Gotham FC took to the field with confidence.
In the pre-match press conference, Juan Carlos Amorós expressed his belief that the team was well-prepared for this situation, despite losing six key players for over a month due to the Women's World Cup.
Amorós highlighted the balanced distribution of playing time among his July 2nd squad and stated that every player was ready to step up when needed. He had been planning for this moment throughout the season, and his confidence in the team's depth was evident.
Step-up, they did. Young talents such as Yazmeen Ryan, Nealy Martin, and rookie Jenna Nighswonger played crucial roles as Gotham secured a valuable league point in a thrilling 0-0 draw that had both teams showcasing their defensive prowess in an open, end-to-end game.
After the game, Mandy Freeman praised the team's versatility: "[What is] so great about this team is that [there is] a lot of emphasis on just filling in roles," she explained. "Every player should be able to understand and know any position and be able to float seamlessly through. I think that is one of our big strengths." Freeman herself started as a left back and ended up playing as a center back by the end of the game.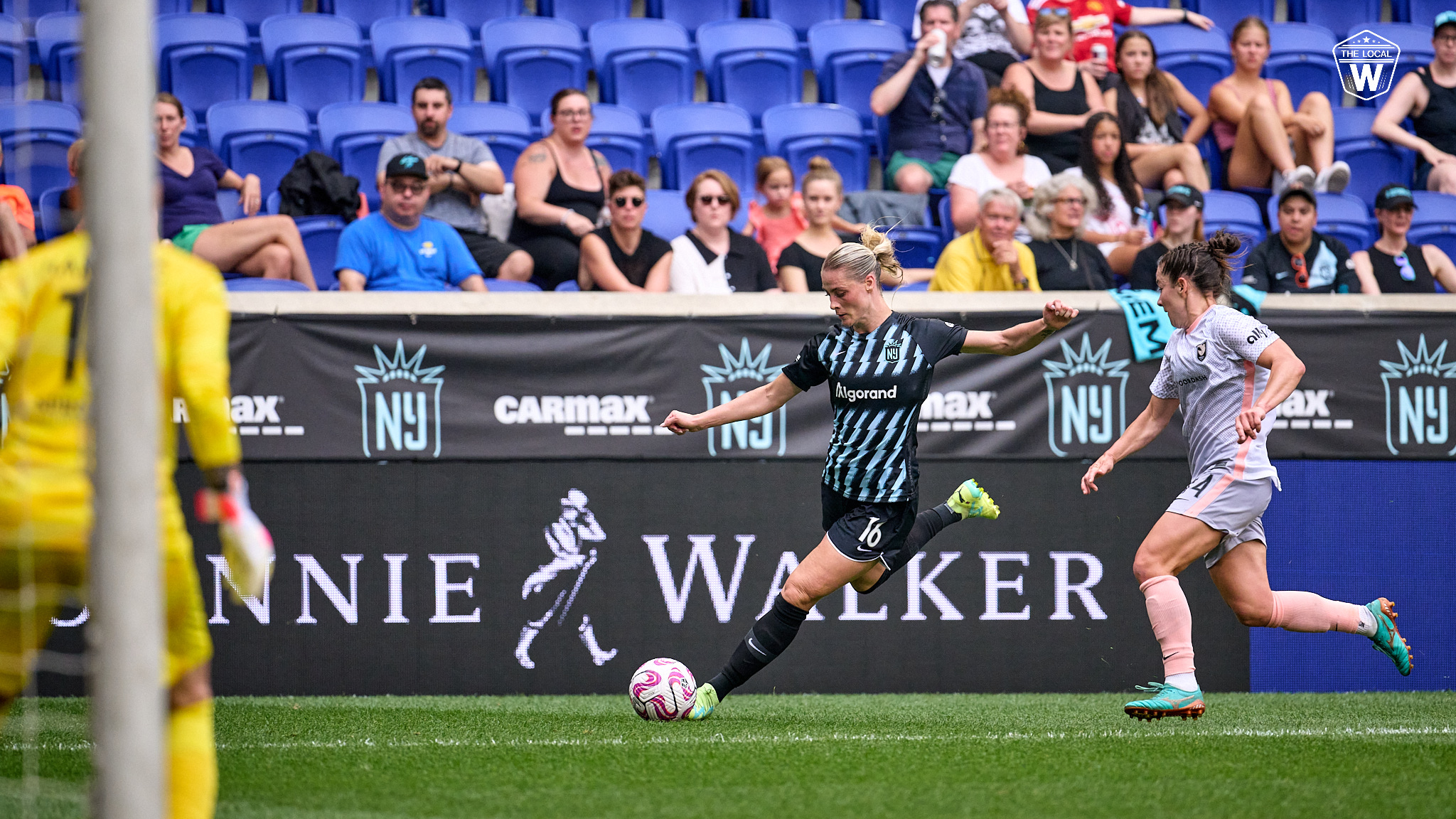 While the young talents and adaptability of Gotham FC were impressive, two veteran players stole the spotlight: McCall Zerboni and Mana Shim.
McCall Zerboni's 200th Game
McCall Zerboni, a prominent player in the NWSL, celebrated her 200th game on Sunday, becoming only the second player to reach this milestone after Lauren Barnes (who currently sits with 201 games under her belt). At 36 years old, Zerboni's dedication to her craft and service-oriented mindset were evident. In the post-game conference, Zerboni expressed gratitude for the opportunity to have served her team and community over the course of her career.
"I look at my job from a service mentality. I want to service those around me. I want to service the supporter, I want to service my city, service my team and I'm just grateful for the opportunity to do that 200 times," said Zerboni. She then added that she finds purpose in her job to use her platform to inspire and make the world a better place.
It was clear that the most significant moments in Zerboni's career were not solely about each game and win, but rather the profound impact of the game, and soccer, on the community – both within her family and friends, within Gotham FC, and the national and global communities at large.
When asked about being an 11-year veteran in the league, Zerboni joked about being tired but expressed pride and confidence in the NWSL's growth. She stated she felt secure in the direction the league was heading, crediting one individual who had been instrumental in driving that growth: Mana Shim.
Mana Shim's Brave Return
As Zerboni earned her 200th appearance on July 2nd, it was Mana Shim's first time stepping back on to the pitch of an NWSL match since June 2nd 2018.
Mana Shim changed the course of the NWSL through bravely speaking up and out about abuses suffered within the league. The impact of her actions sent a ripple effect across NWSL and consequently the entire Women's Soccer world. Shim has affected change on a systemic level and now she is back to enjoy the game that brings her happiness.
After the game, Shim stated, "Honestly, I just had so much fun… I really missed this game and all those amazing women. I am so proud of how much the league has grown, and I'm honored to be a small part of it."
Zerboni states of Shim's return to the pitch, "[Shim's return tonight] is the epitome of strength for me. To go through such an extreme experience attached to your workplace and to have the bravery to come back and do that work."
While her off the field work will never be forgotten, it's equally important to highlight the talent that Shim is as a player.
Despite not having played since 2018, Shim played Sunday's match with freedom, joy, and ease that quite simply can not be faked. Her creativity and work ethic shone bright across the entire field. On offense, she added a dynamic element to the attack that Gotham FC was missing. On defense, she could already be seen throwing her body in front of the ball in slide tackles across the field.
Next Up for Gotham FC
Next up for Gotham FC is a crucial game against Portland, which will have significant implications in the league table. Currently sitting in 5th place and with two draws in their last five games, Gotham FC needs a victory to stay within striking distance of the top three positions.
The 0-0 draw against Angel City demonstrated the team's dynamism and adaptability. Now, they must find a way to convert these qualities into goals.